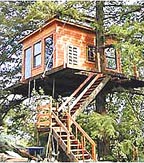 Websites as Art/Documentation
Each of these sites opens in a separate window. Close those windows to return to this page.
2008
Ghosts of Seneca Falls: This is a project web site for a video installation, which will debut at the Women's Rights National Historic Park in upstate New York over Labor Day Weekend, 2008. Be sure to check the "Production Photos" page of the attached wiki. This site is still changing and growing as the project evolves.
2007
Costa Rica: This site is a travelogue of my adventures in Costa Rica, including an outback journey to visit a Bribri shaman and my first surf lesson. This site includes video, so please have your speakers on.
Yosemite and Tuolome: This is a 1-page site featuring photos of Yosemite Valley and Toulomne in the Sierra Nevada mountains. These photos are from my cell phone, but I actually like the mat-painting look of the lo-res capture. Check out the bear claw marks on the tree!
2006
New York Times Data Mapping Project: This site is both documentation of an installation and a piece itself. I mapped the headlines for the New York times for a month because it seemed there were not very many written by female journalists. Then I created a unique data visualization for the information via soft sculpture.
2005
Luxor-Qurna Diaries: This site is also both documentation of a piece--a 3-projector video installation--and a piece itself. It has some large videos, so you may have trouble if you do not have a very powerful web connection. (DVDs are available by request.) However, anyone can see the page documenting the first installation of the videos; that page is comprised of still images.
2004
A Critique of Eckler's Ideas on Feminist Aesthetics: This site was created for an academic presentation instead of reading a dry paper. I think it is a fun site.
Wedding Psalms for a Sister: I created this piece for my sister. I felt so frustrated that, along with so many other elements of the feminist backlash of the Bush administration (like losing over 450 legal rights), ridiculous, sexist wedding traditions were creeping back into the mainstream. --or maybe they never went away in the first place, and the weddings I had attended for the 10 years prior to this point were more progressive!
William Blake Narratives: I have a very special relationship with William Blake. For 5 years that I lived in San Francisco in the late 1990s, every time I started feeling utterly hopeless about ever having success as an artist, every time I would think it was time to throw in the towel and get "practicle," I would see this mysterious man who looked like Blake. (William Blake was an 18th-19th century Romantic word-and-image artist. Some credit him with being the first, or proto, hypertext writer. )
2003
Interactive Egypt Narratives (Welcome to Alaska): I made this trip to explore my emotional and social experiences during my first trip to Egypt. This site was created before Firefox and before pop-up blockers. So please allow pop-ups, and you may have better luck with Internet Explorer. This piece has sound, so please have your speakers on.
Angry Womyn Awards: This piece was created to honor women and men with a high degree of respect for women and for gender equity, and to cast a harsh light on some of those who do not. The site also serves to link to resources for various issues, like self-defense. My apologies of half of the links are dead at this point.
Do You See What I See: This documents an experiment that sought to understand verbal and nonverbal, maybe even telepathic, communication. Participants tried to draw each other's dreams according to descriptions. How close did they come to matching what the dreamer saw in his/her head?