COSTA RICA!
May 2007 Travelogue/Travel Guide
by Casondra Sobieralski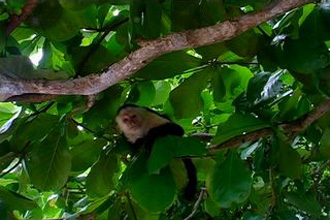 (Click image for corresponding video. Allow load time.)
The drive from the airport, where a shuttle from Samasati Retreat Center was waiting for me, was gorgeous. The outskirts of San Jose are a mix of shanties and American stores with big ads for companies like Avon. These ads seem frivolously out of place in the midst of a population clearly focused on meeting their most essential survival needs. The creamy skinned Nordic models in the ads seem laughably out of place in Latin America, too.
Beyond the scenery turns rural quickly, with coffee and pineapple plantations abounding.
A few more miles and we were driving along the perimeter of a national park rain forest. The foliage did not quite conceal the big hills and the resulting deep valleys that contained the fog like cappuccino cups. LUSH is the word I'd use to describe. Even driving along the edge of the preserve, the forest was so audibly alive that the cacophony drowned the vibration of the shuttle engine.
Closer to the Atlantic coast, heading toward Limon, the land flattens. It is full-fledged tropical jungle here.