Staying at Samasati Nature Reserve, it was inspiring to spend time with lots of smart, independent, capable, 4-wheel drive sort of womyn doing things their own way.
I met Laura the first night. She was in Costa Rica for the second time. Laura is an interesting character who defies all stereotypes. Part L.A. princess who drives a BMW to her high-paying Hollywood copyright law job, and part rugged backpack minimalist adventurer, she kept me guessing. I missed her energy when she left.
Then there was Katherine, a Canadian Navy gypsy who used to work as a Queen's Press graphic designer for archaeologists, geologists, national parks, and the like. She spent 3 years living off the grid in the Yukon chopping her own wood. In contrast, she also likes sparkly eye shadow and toenail polish.
Jacqueline runs her own yoga studio in Massachusetts and leads yoga retreats in remote locals. [See www.froglotusyoga.com] She understands the rhythm of the tropics, having lived and traveled in Southeast Asia and in Indonesia. She had also lived in India. She isn't spooked by big bugs.
Mela is a very knowledgeable massage therapist from Hawaii. (I couldn't get a massage from her, unfortunately, because I had poison oak from California!) She is young with a grounded wise old soul, and I eventually see her in some great leadership role. For now, she is working her way around the globe with her healing talents.
Alexa is doing the same with her yoga teaching skills. Her last outpost, before Costa Rica, was teaching in Puerto Rico. She taught me all about Dengue Fever and what sort of mosquitoes to watch out for. That is the last thing to worry about, though, at her home base, New York City.
Emilie is a college student from Virginia who was doing a work exchange at Samasati for the summer. Even though she was a staff member, we liked her so much we stole her away to play with us every chance we could get. She won, as far as I am concerned, the bug bravery award after more dramatic encounters with aggressive monster-sized insects than any of us.
I enjoyed hanging out with the sistahs, exchanging cockroach stories like fish tales over long dinners, sharing life stories while bouncing around in trucks, talking about love and politics while treading water in the sea. The female bonding experience was the best gift of the whole trip. We had vastly different personalities, but our shared love of freedom, adventure, exploring, and escaping consumerist, linear cultures for another point of reference gave us common understanding.
As we were wrapping up our stay at Samasati, lots of mixed groups—men and women—started arriving. And there was a solo male traveler leaving when I arrived. It was a fluke that we ended up having a women's retreat. So men, be advised that you are welcome and encouraged to visit Samasati, too!
(Click images to play corresponding video. Allow load time.)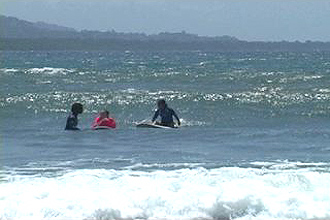 Samasati goddesses learning to surf with teacher Herschel