SOUTHERN ATLANTIC COAST
Puerto Viejo is a Jamaican-style surf town on the Atlantic Coast. It is a good starting point for starting explorations because you can get provisions there, from sandals to sunscreen to snacks. There is also an ATM in town (though I had trouble with it), a place to exchange traveler's cheques, and high speed internet cafes. I imagine that Santa Cruz, California in 1968 looked and felt similar to Puerto Viejo today. The town just got electricity in 1997, according to locals I spoke with. And happily, at this point, there is still very little American commercialism in town beyond soft drinks and Colgate. (The Pacific coast is supposedly L.A.-ified.) Many souvenirs are hand made by local people.
The beaches in Puerto Viejo are not the cleanest, though, so a better place to swim nearby is Punta Uva, a few miles south. Cocles, in between, is generally a good place for surfing. The water at Cocles can be a bit rough for relaxed swimming. Beyond Punta Uva is Manzanillo, where the snorkeling is supposed to be good, Dolphins and sea turtles may be spotted. I cannot attest to these notes on Manzanillo from first hand experience, but this was the word on the street.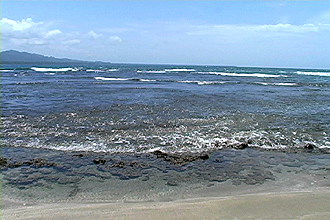 Click here for sattelite maps of Puerto Viejo de Talamanca and neighboring beaches.
A good twenty-minute drive north of Puerto Viejo is Cahuita National Park. Keep going and you will find Playa Blanca, Play Negra, and then Playa Grande. The national park has an entrance fee, but it maintains an endless stretch of yellow sand beach if you are looking for that sort of experience. Play Blanca offers some snorkeling, but you must go with a guide for protection of the reef. You can also do some beginner surfing at Play Blanca, away from the reef. The next beach north is Play Negra. It is a black sand beach running about a half mile long. I saw some people surfing here in the mornings. Between Playa Blanca and Play Negra is the small town of Cahuita. It has a more laid-back feeling than Puerto Viejo. Though it is still touristed, you also see uniformed school kids and families walking dogs, and other people who obviously live there. Just a bit further north of Play Negra is Play Grande. Being that it is a couple miles long, it is a romantic place to walk hand in hand at sunset.
(All 4 video clips were shot in Puerto Viejo.)