Since I was staying at a yoga retreat center, I figured I ought to do a few yoga classes. Plus, after 20 hours of travel to get to the Caribbean coast of Costa Rica, my muscles were TIGHT TIGHT TIGHT. A little yoga therapy to restore flexibility seemed like good injury prevention.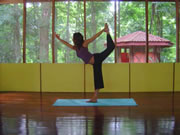 Yoga @ Samasati (image from Samasati's site)
I found it is hard to stay focused on the practice when you are traveling. With so many logistics involved, it was hard for me not to go over and over "to do" lists and "did-I-remember-to-do" lists in my head. Being in an unfamiliar environment, an unfamiliar biosphere even, it was hard to keep my mind from drifting into "what if" scenarios. What if I step on a bushmaster? What if I get hit in the head with a surfboard? What if my ATM card doesn't work in the one machine in town? (It didn't.) I kept trying, though.
The teacher, Alexa, was very good. She helped me to work out some of the twisted gunk at the insertion point of my hamstrings. She is the first yoga teacher who has helped me to "get" what people mean when they tell me to "melt my heart" more in downward dog. I also like that she is more athlete and adventurer than ethereal crystal donner or designer yoga clothes fashionista.
I highly recommend Samasati for the yogi or yogini who wants to mix yoga and travel. For solo travelers, Samasati is a great place to snowball with other solo travels so you can find partners to explore the area with. The staff is friendly and down to earth. The food is the best in Costa Rica, all vegetarian and made on the premises. The views from the dining porch will soothe your soul.
Take a mosquito net. The mosquitoes are not actually that bad, but the bugs in the jungle are BIG. You'll sleep better knowing that you will not wake up with one on your face. Also take a hair dryer to quick-dry items that won't dry on their own due to the humidity, like your bathing suit. (There is electricity at Samasati.)
Late afternoon seemed to be the rainy time in this part of the country. And when I say rain I mean RAIN! Deluge. Noah level downpours. Laugh at West Coast El Nino. There is nothing unpleasant about this rain, as it is warm and beckons you to dance in it. However, the rains are another good reason to stay at Samasati, as opposed to a budget place on the coast. When it rains, you can take a yoga class or a Spanish class, make friends with guests, stretch out in your big room or a communal space to read, write, draw, dream.
See www.samasati.com for more information.