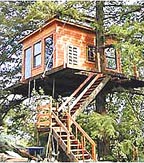 Casondra's Artist Statement and Biography
Artist Statement
I employ non-linear narrative and spatial storytelling as a way of conveying personal and social histories. Stories exist in spaces and places. I strive to bring awareness to those spaces where hidden stories exist and to make those stories visible. I use video projection, web narratives, text, performance, ritual and psychogeography (personal map making) as vehicles towards these aims.
My artistic process relies on researching history, archaeology and social movements; investigating, examining, excavating, contemplating my "inner" and "outer" worlds and the enticing intersections between the two; interacting with space via running, hiking, dancing, traveling, and traversing. I live by the motto stitched into my North Face khakis, "Never stop exploring."
Biography
I hold a BA in Art History from the University of Pittsburgh and an MFA in Conceptual and Information Arts from San Francisco State University. I have shown in Western Pennsylvania, Bing Gallery in Oakland, StartSOMA Gallery in San Francisco, the Berkeley Art Center, and especially enjoy engaging with architecture doing site-specific work outside the gallery system. I have worked with CNRS/the Louvre doing digital reconstruction work and documentation for French archeologists in Egypt. I have taught community education classes at the San Francisco Art Institute, UC Berkeley, the Bay Area Discovery Museum, JUST THINK, the Museum of Children's Art in Oakland (MOCHA), and the Carnegie Museum of Art. Production credits include the Three River's Shakespeare Festival, Berkeley Repertory Theatre, and several independent films. I am currently enjoying a year as a Visiting Professor of Media Arts at New Mexico Highlands Univeristy.
I have served for seven years on the board of Lunafest film festival, and I act as the Board Liaison for the nonprofit digital heritage group INSIGHT, which is based in Emeryville, California.