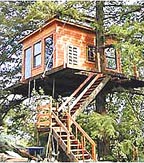 Casondra's Artist Statement and Biography
Artist Statement
I employ non-linear narrative and spatial storytelling as a way of conveying personal and social histories. Stories exist in spaces and places. I strive to bring awareness to those spaces where hidden stories exist and to make those stories visible. I use video installation, sound installation, soft sculpture, sound mapping, web narratives, performance, ritual and psychogeography (personal map making) as vehicles towards these aims.
My artistic process relies on researching history, archaeology and social movements, and media archaeology (hence my nostalgia for my hand-coded DIY web site). I investigate, examine, excavate, and contemplate my "inner" and "outer" worlds and the enticing intersections between the two. Spatiality and challenging binaries between materiality and immateriality are the driving themes my work.
Biography
Casondra Sobieralski, a Ph.D. candidate in Film and Digital Media at University of California, Santa Cruz, is writing her dissertation, "Copper and Cult: Intra-Actions from the Bronze Age to A-Life." She holds an MFA in Conceptual and Information Arts from San Francisco State University and a BA in Art and Art History from University of Pittsburgh. Sobieralski's work builds bridges between media and archaeology by creating immersive experiences that bring history to life. She is interested in historical soundscapes, what epistemological questions sound can raise about historical spaces, and how sound can create spatial and temporal maps. She has participated in numerous digital heritage projects over twenty years, including digital reconstructions of the tomb and temple of Rameses II for the French National Centre for Scientific Research (CNRS) and the Virtual Çatalhöyük project with UC Berkeley Professor Emeritus Ruth Tringham. Sobieralski has produced sonic investigations of the Santa Cruz Mission and within Golden Gate Recreation Area's World War II batteries. She directed and produced a three-projector video installation about the early suffragists for the Women's Rights National Historic Park in Seneca Falls, New York. Prior to starting her Ph.D., she worked as an Information Architect for UC Berkeley. She has taught Media/Arts to children and adults across the Bay Area and served as a visiting professor at New Mexico Highlands University from 2012-2013.
She served for seven years on the board of Lunafest film festival, and I acted as the Board Liaison for the nonprofit digital heritage group INSIGHT, which was based in Emeryville, California.