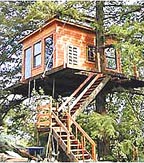 Video/Installation Work 2007
Archaeologists at Catalhoyuk have discovered many depictions of leopards and of pelts marked by leopard spots. However, to date only one leopard bone has been found in the settlement. How might one interpret this? What did this animal and/or this motif mean to the Neolithic people who lived there?
A spot can conceal, reveal or protect. It can represent a passage to or from one place or state of being to another. It can decorate, demarcate or enclose. A spot can represent a part of a larger pattern, as a person can represent part of a larger community. A spot can represent the macro, as on a map of the night sky; or it can represent the micro, as in the pollen granules abundant in an agrarian community that depends on pollination for the continuation of life.
"In Search of the Leopard's Spots" is a visual exploration of the spot and some of the meanings its representation can convey.
I created this piece as a volunteer for the UC Berkeley archaeology department. Under the guidance of Professor Ruth Tringham, our team created a virtual reconstruction of Catal Hoyuk--a neolithic settlement in what is now Turkey--in Second Life. In Search of the Leopard's Spots was my contribution to our Second Life "in-world" film festival. The video is a heavily edited mash-up of found footage from the archeology department archives, overlaid with original animations.
View the video it at http://www.youtube.com/watch?v=tY5QGspJ_fQ.
For more information on our Catal Hoyuk reconstruction in Second Life, see the desription under the digital heritage of this site.