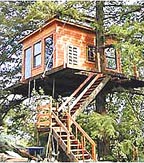 Video/Installation Work 2008

http://www.pelefire.com/senecafalls/
This site-specific three-projector video installation was shown at the Women's Rights National Historic Park in upstate New York over Labor Day Weekend, 2008. It sought to animate the "ghosts" of an event that took place in the Wesleyan Chapel in 1848--the reading of the Declaration of Sentiments in 1848. That is the platform from which Elizabeth Cady Stanton and her peers demanded several new equity rights for women, such as the right of women to keep their own wages and property when they married. Most radical was their demand for women to have the right to vote. The fight for suffrage in the United States began on this evening and waged for seventy years.
The soundtrack for this piece asks San Francisco Bay Area residents historical questions about this East Coast historical event and related events, such as: "When did the women's movement begin in America?" "Who is Sojourner Truth?" "What amendment gave women the right to vote?" and "What is Title 9?" It also asks opionon-driven questions such as: "What IS 'post-feminism'?" and "What is left for the Fourth Wave to tackle for gender equity?" Voices arre laid over ambient sounds from San Francisco such as cable cars and waves at the shore.
The site documenting this piece, www.pelefire/com/senecafalls, includes video excerpts of the installation in situ, sound clips for use in classrooms, and resources for voting.
The piece is slated to be RE-installed in the Wesleyan Chapel after a reconstruction project in the chapel.