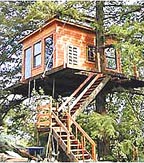 Video/Installation Work 2004
Note: Many of my videos/excerpts of my videos, are available on YouTube, rather than embedded in this site, in order to negate long download times for viewers. I have no control over what videos come up in relation to my videos beyond what search tags I choose. This is a disclaimer against any and all obnoxious, low-consciousness videos that may somehow share tags with my videos, and show up in the YouTube side bar. Thank you.
Left/Right/Left: This footage, shot in San Francisco is from the first day of the Iraq War. This was used in a video installation, so this short clip looped endlessly. The clip and its mirror image were projected into a corner, creating the effect that two streams of video were converging into one. Different sizes of projection create elicit different psychological responses.
View a clip at http://www.youtube.com/watch?v=SSSqi9af6sM&feature=mfu_in_order&list=UL.