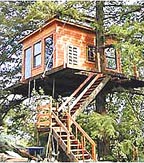 Video/Installation Work 2004
This footage, shot in San Francisco is from the first day of the Iraq War. This was used in a video installation, so this short clip looped endlessly. The clip and its mirror image were projected into a corner, creating the effect that two streams of video were converging into one. Different sizes of projection create elicit different psychological responses.
View a clip at http://www.youtube.com/watch?v=SSSqi9af6sM&feature=mfu_in_order&list=UL.